Reporting Bias/Discrimination/Harassment
Resources for reporting bias/discrimination are outlined at https://equity.ucla.edu/report-an-incident/. It is important to note that you can report issues that you have experienced personally, or things that others have experienced.
Discrimination Prevention Office (DPO)
https://equity.ucla.edu/about-us/our-teams/civil-rights-office/discrimination-prevention DPO handles a wide range of discrimination and bias issues from ethnicity to religion and veteran status, among others. However, DPO specifically handles cases where student, staff, or faculty have been discriminated by faculty. In cases where discrimination originates from staff, the Staff Diversity &AA/EEO Office handles the investigations.
Staff Diversity &AA/EEO Office
https://www.chr.ucla.edu/staff-diversity/filing-an-eeo-complaint
Sexual harassment and sexual violence
Issues involving sexual harassment and sexual violence are handled by the Title IX office. https://www.sexualharassment.ucla.edu
Information on how to make a report is here: https://www.sexualharassment.ucla.edu/making-a-report. As a reminder, all UC employees (faculty, staff, postdocs, GSR, TA's, etc) have a mandatory reporting requirement regarding sexual harassment/violence.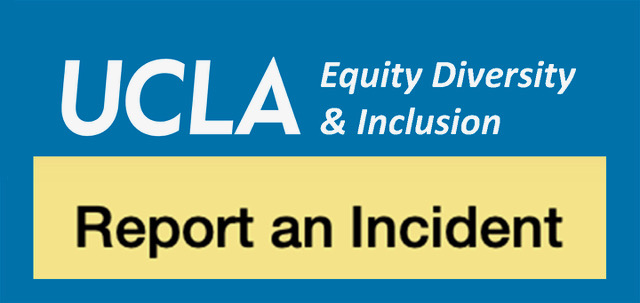 Because the distinctions between these offices can be confusing, or problems experienced by an individual may span these offices, there is an email where you can reach out to: WeListen@equity.ucla.edu and they can provide guidance. The Life Sciences Division Equity Advisor, is also happy to provide guidance, if you have any questions, and can try to direct you to the appropriate resources. He can be reached at paulbarber@ucla.edu.
Educational/Research Resources
Interdisciplinary Programs
Links
The Santa Monica Pier Aquarium The aquarium offers school groups, families and visitors a unique view into the ocean world, and is home to dozens of species of animals and plants of the Santa Monica Bay.
Research @ UCLA Pushing the boundaries of "the known," UCLA researchers – faculty and students, both graduate and undergraduate – venture every day into uncharted worlds, from the molecular to the galactic.
Natural Reserve System The University of California maintains a large natural reserve system.